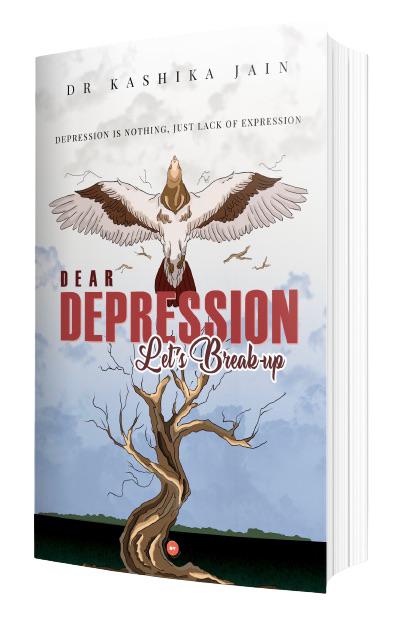 About The Book-
"Dear Depression Let's Breakup":
"Dear Depression Let's Break-up" book is a self-help book for those people, who are, due to any reason suffering from depression and face many difficulties in life.

They take medicines for years, but even they don't come out of depression. Unfortunately, no medicine can change someone's thought.

They cannot come out of the depression unless they express themselves and change their thoughts.

As Psychologist, Hypnotherapist, counsellor & life coach, I have realized from my own experience that people suffer from depression due to long-standing emotional discomfort, and they are unable to express their thoughts & feelings.

They need a person who can help them to change their thoughts and lifestyle.
In this book, mental severe illness depression has been expressed in the story form and in a very simple way, so that issues like depression can also be understood very easily.

In this book, very simple spoken English has been used so that maximum people can read this book.

Through this book, useful tools are discussed, so that anyone can come out of depression.

This book emphasizes the importance of expression, exercise, meditation and lifestyle.

This book is written in a story form, so that people can understand the real situation of a person who is facing the challenge of depression.

This story is about a young boy named Vidhan; he belongs to a prosperous family.

Due to some painful experience of his life, he went into depression.

He had a good job, a loving girlfriend and luxurious life but despite everything, he was not happy and gradually become ill, physically and mentally.

He wanted to end his life, but one day, a psychologist came into his life, who helped him to beat depression without medication.

This story is based on true experience. Due to the confidentiality of the person, all the necessary precaution has been taken. Happy Reading, The Wonderful Story!


About Dr. Kashika Jain
Dr. Kashika Jain is Internationally renowned RCI registered Psychologist, Counsellor, NLP Master Practitioner, Hypnotherapist, Inspirational Speaker and Life Coach in India.

She provide Psychological and Spiritual counselling for OCD, depression, anxiety, relationship solution, parent child counselling, insomnia, husband wife relationship, child bonding, phobia, addiction, stress, bipolar disorder, Schizophrenia, anger, weight loss counselling, career counselling and other psychological counselling.

Best part of her treatment is that "She treats all the psychological issues, without any medication".

According to her philosophy "We cannot change our thought process & Psychology with the help of any medicine".

She provides all the Advanced Therapies like CBT, ERP, Hypnotherapy, DBT, NLP etc at her clinic.

She also takes online sessions over video call/zoom meeting.

She is the founder of "Wonderful You" organisation, with the vision to spread Hope-Happiness Harmony in the society and make people's life wonderful.

She has started a national campaign named as "Wonderful Mind Mission" with the objective to spread awareness of mental health and her mission has been joined by more than 1 Lakh people including many MPs/ MLAs/ IAS officers/ Bollywood Stars / Singers / Journalist and other respected people of the society.

She has won many awards in her field and also a regular writer of national news paper and also associated with leading news channel.

Till now she has transformed over 1 lakh+ lives in from 2010 through her Counselling/Therapy/Seminars/Workshops/ Training/Youtube channel.br>

She has conducted International seminar in "Singapore and Malaysia".

Her Youtube videos are popular in worldwide and her video on various psychological issues are appreciated by all the age group.